LUNCHTIME SEWING CLUB
In the Autumn and Spring term a lunchtime club was run by Mrs Smith. Year 5 girls enjoyed making sock monkeys developing their sewing skills to create a toy stitched by themselves.
Skills taught were:
• Threading a needle and tying a knot at the end of the thread.
• Pinning fabric together.
• Oversew stitch
• Back stitch
• Attaching accessories.
District Sports 2022
Kingston Primary School came 1st in District Sports this year. This is an amazing achievement and the children showed incredible dedication and teamwork throughout the day. All of the children gave their all in their events. Well done to our team!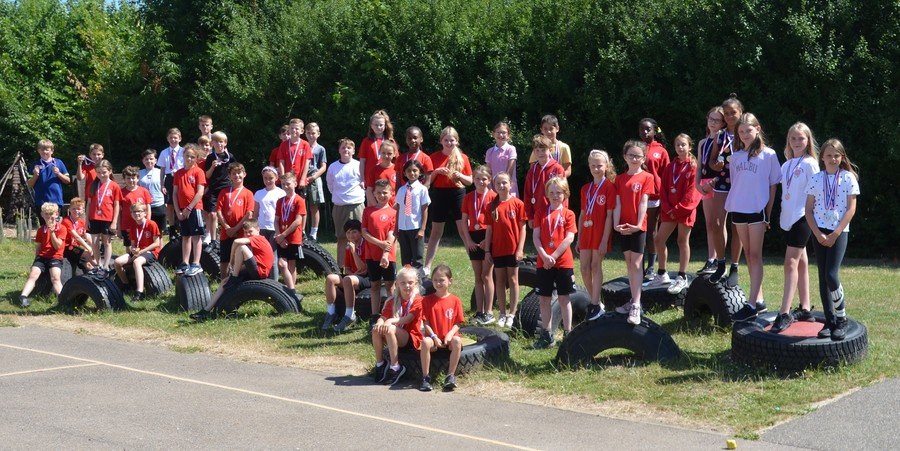 Platinum Jubilee Picnic
We celebrated the Queen's Platinum Jubilee with a whole school picnic. The children absolutely loved the event. We studied what life was like in the 1950s and families shared pictures from this time. We played games, had a lovely picnic and enjoyed singing the National Anthem. After school, we invited all of our families to join us for tea and cake and had the most amazing day.
Tree Planting Day
To launch the Jubilee celebrations we had a whole school tree-planting event. All of the children in the school helped to plant trees all around the school to celebrate the Queen's Platinum Jubilee. Not only was this a memorable event for the whole school community but it will be a lasting legacy for all of our children. They will be able to see the trees grow and even when the children are all grown up they will be able to see the trees they planted because they will be here for many years to come. Our Eco Warriors have helped to offset our carbon footprint by introducing these new trees onto our site. What a day!
What a wonderful day celebrating books! We all love reading and getting into books - they often open unexpected doors! We started the day with a huge celebration assembly talking about our costumes and books. We then listened to the amazing World Book Day 2022 song together with a story by the the author Joanne Nadin - 'The worst class in the world'. The school then spent time reading their favourite books. Throughout the day, teachers went into different classes and shared their favourite books with the children who learnt about some of our most amazing authors. What a an incredible day!
Here are some pictures from the day:
Siobhan Meade, a Blind Vlogger Visits Kingston Primary School
On the 1st February 2022, Siobhan Meade, a blind vlogger came to Kingston to speak with some of our children about what it is like to be blind. Siobhan was amazing and welcomed all types of questions from our children. Helping to educate them about visual impairment. This was a great learning experience for the children and it supported our passion for diversity and mutual respect. The filming was such a success that the Guide Dogs charity posted on their social media about it, which helped to raise awareness of such an important topic. The story even made several major news companies and even appeared on Sky News. What a way to spread an important message and what amazing stars we have at Kingston Primary School.
See the videos and pictures below:
Max Whitlock Visits Kingston Primary School
On the 18th June, Max Whitlock, the double Olympic champion, came to Kingston to speak with many of our young children about sports, healthy living and their future goals.
Max was absolutely brilliant with the children and asked them lots of questions but our children were just as amazing and asked him lots of hilarious and probing questions. Max shared his Olympic medals with the children and even showed them some of his amazing gymnastics. Two of our lovely children even got to have lunch with him!
See the video and pictures below: