OUR KINGSTON READING CURRICULUM
We Are Readers!
HOW WE GET OUR CHILDREN TO BE FLUENT READERS, WHO UNDERSTAND WHAT THEY HAVE READ
AND LOVE BOOKS!
Reading Statement Of Intent (Our Vision)
We understand how important it is for our pupils to leave Kingston as fluent readers who can understand texts that are put in front of them. Our belief is that the teaching of reading is integral to a child's understanding and appreciation of the world around them; a platform that allows our children to see beyond what they know, share in cultural experiences and develop the vocabulary they need to effectively express themselves We also understand how important it is for our pupils to love books and have therefore put together a carefully crafted curriculum to ensure that the reading journey our pupils take with us is an enjoyable one and prepares them for the next stage in their education..
Our passion for reading is shared by many inspirational people and we believe:
"Reading is important, if you know how to read then the whole world opens up to you." Barack Obama.
"The more that you read, the more thing you will know. The more that you learn, the more places you'll go." Dr Seuss.
"If you are going to get anywhere in life, you have to read a lot of books." Roald Dahl.
The Curriculum For Each Year Group Contains:
The basic knowledge and skills our children must acquire throughout the year

The active reading and/or Foundation Stage and year one core books* the teachers will use.

The **Reading Doorway books that children will be encouraged to read

The fully decodable Big Cat books for Foundation Stage, year one and interventions

The expected reading stage for that year group

A list of non-negotiables for teaching reading set out in knowledge organisers.
*Core books are set books which have been carefully selected to ensure that our children experience a rich diet of traditional, contemporary, diverse and inclusive literature in the early years of their reading journey. These are shared with the children using the Kingston core approach:
Reading the book to the children

Re-reading the book and discussing key vocabulary

At least a third reading to deepen the children's familiarisation and understanding of the text
**Reading Doorway books are six well-researched, high quality books that have been carefully selected for each year group. Children are encouraged to read the six books throughout the year and their efforts are acknowledged and celebrated.
Year group Knowledge Organisers and curriculum intent and implementation:
| Name | |
| --- | --- |
| YEAR SIX READING KNOWLEDGE ORGANISER.pdf | Download |
| YEAR FIVE READING KNOWLEDGE ORGANISER.pdf | Download |
| YEAR FOUR READING KNOWLEDGE ORGANISER.pdf | Download |
| YEAR THREE READING KNOWLEDGE ORGANISER.pdf | Download |
| YEAR TWO READING KNOWLEDGE ORGANISER_.pdf | Download |
| YEAR ONE READING KNOWLEDGE ORGANISER.pdf | Download |
| FOUNDATION STAGE KNOWLEDGE ORGANISER.pdf | Download |
Showing 1-7 of 7
Progression Document EYFS - Year 6
Whole School Implementation Of Our Reading Curriculum
Learning to read is one of the most important things our pupils will ever learn. It underpins everything else, so we put as much energy as we possibly can into making sure that every single child learns to read as quickly as possible and develop a real love of reading. We have used the expertise of our two Specialist Leaders in Education (one in reading and one in phonics) to ensure our reading curriculum is of the highest standard.
This is how we achieve our vision:
We have a thorough systematic, synthetic phonics programme, Kingston L&S Programme, which is taught in Foundation Stage and year one. More information can be found within our phonics curriculum document.

We have created our own picture-sound correspondence scheme called 'Pixead' which is used as a resource to teach reading and spelling across all year groups.

From year one, our children have regular Active Reading sessions. Each child has their own copy of a text which is read by the teacher to model fluency and expression. This shared text will be at a challenging level and will be carefully selected to ensure progress across the year groups.

During an Active Reading session, pupils are encouraged to respond to the text using one of the following prompts:

t-s – text to self
t-t text to text
t-w text to world
t-f text to film
P prediction
? question
S summary
Any thought
Within the upper juniors, Active Reading responses progress to include metacognitive language to encourage children to self-monitor their understanding of the text:

Our junior teachers use VIPERS as a method for teaching reading comprehension:

Vocabulary

Infer

Predict

Explain

Retrieve

Sequence or Summarise

We have a well-stocked library of Big Cats, Oxford Reading Tree (year 2) and Accelerated Reading scheme books.

We have invested in a wide range of high quality texts, carefully selected to encourage a love of reading. These books are stored within the classrooms as well as the library so that they are always readily available to our pupils. A local author assisted us in choosing books to engender a passion for reading in our pupils.

Our teachers have been trained in an Inference comprehension intervention.

We have put a home Rainbow Reading record system in place whereby:

Each child gets a new reading record book every half term.

Every Monday the reading record books is stamped with –

A green stamp if they have read at least five times a week

An encouraging blue stamp if they have read less than five times a week

A red stamp if they have not read at all.

At the end of the week, if a pupil has achieved a green stamp then their name goes into a Friday raffle and the winner in each key stage gets a free book.

At the end of each half term if a pupil has achieved all green stamps then they get a certificate and a free gift from the 'toy shop' to celebrate their success.

If a pupil has achieved all green stamps throughout the year then they get a free book and are invited to an 'ice cream' event. The school hires an ice cream van for the afternoon and we celebrate this great achievement.

We work hard at getting as many volunteers into the school as we can to hear children practise their reading.

We have purchased 80 Lexia licences – Lexia is an adaptive, blended learning programme that accelerates the development of literacy skills for students of all abilities, helping them to make the critical shift from learning to read to reading to learn.

We have subscribed to a Junior weekly newspaper to ensure our children have a good selection of non-fiction literature to read relating to current affairs.

Our Evidence Lead in Education has trained staff on teaching children ambitious vocabulary through direct instruction.

Pupils are taught reading comprehension explicitly within lessons.

In Foundation Stage and Year 1 the children take home fully decodable books that align with Kingston L&S Phonics Programme as well as a reading for pleasure book.

In year 2, children who are assessed go have gaps in their phonic knowledge continue to take home a decodable book. Children who are assessed beyond our phonics assessment, begin to take home Oxford Reading Tree books.

We assess our junior pupils every half term using the Accelerated Reader tool which provides personalised reports including reading age and book levels. Junior pupils take home an Accelerated Reader book.

Children complete Accelerated Reader quizzes constantly throughout the year which develops their comprehension skills.

We encourage our pupils to take part in the local library summer reading challenge and invite a guest speaker to talk to our children about the project.
What Do We Do If Our Pupils Are Not On Track?
They will be classified as a vulnerable reader and an action plan will be created for each child

They will take part in a Kingston S&L phonic intervention scheme

They will have a Lexia Licence and are invited to attend the Lexia club and these children's Lexia usage will be monitored closely

They will be assigned an adult reading partner

They will get personalised reading packs during the longer holidays to ensure they keep up with their reading
How we ensure diversity and inclusion in our children's diet of literature
It is important that all our children feel well represented in the literature they experience throughout the school. We ensure this by:
Researching and purchasing the highest quality books for diversity and inclusion on the market;

Filling our library and classrooms with diverse books with an ongoing commitment to expanding the offer;

Including diverse and inclusive active reading, core and challenge books within our non-negotiable year group reading lists.
Kingston Primary School's Reading Doorway Challenge
The reading doorway challenge is an opportunity for children to 'open the door' to a different world through reading. A chance to drift into a world of imagination and get lost amongst the words of a great story.
Each year the children will be challenged to read six new and exciting books in any order they wish. Once a book has been completed, they will need to return it to school. They will then be awarded a sticker in their Reading Doorway Booklet as a record. They can then choose another book.
The books have been carefully chosen to challenge and developing reading for the specific age groups. They progressively get harder as the children move through the school.
There are six books to read each year and we challenge the children to read all 42 of them during their time at Kingston. Doing so will improve their understanding of a wide range of narratives, story structure, comprehension, writing and vocabulary.
The books chosen include some well-known 'classics' as well as others by more contemporary award winning authors. We have chosen books carefully in response to children's feedback, online book recommendations and book reviews. We know the children will enjoy them.
Please note, the children are not expected to read all the books by themselves, the idea is to share and enjoy the experience of a great book together with adults.
Kingston Primary School Reading Doorway Challenge:
Our 100 Book Library Challenge
In addition to the Reading Doorway challenge for each year group and the high focus of reading across all subjects within Kingston, we have created a 100 book library challenge for children to complete during their time at Kingston. We carried out research into the most captivating and challenging story books ranging from EYFS to year 6. We then created a year group list of these 100 books for children to read and complete during their time at Kingston. Each child has a 100 library challenge booklet and when they have read the book, they get it signed off from one of our librarians. Our librarians will ask them to review the book before signing it off. Our intent and the reading book list can be found below.
Core Reading Books
We have chosen core reading books to share with children that elicit a strong response such as curiosity, anger, excitement, laughter, empathy etc. Each book has a strong narrative that sustains multiple readings and we have ensured that each book develops and extends children's vocabulary. The core books also have illustrations which are engaging and reflect children from all backgrounds and cultures which celebrates diversity within our school community. Many of the books help children to connect with who they are and we have included books with LGBT+ themes. The core books help children to understand the lives of people whose experiences and perspectives may be similar or different from their own. The list of our core books is below:
Impact
The impact of a Reading for pleasure approach to Reading means that our pupils can fluently read a range of texts, building stamina to be able to read for sustained periods. They develop curiosity through questioning and predicting what will come next. They will infer what the author is suggesting and they will be able to summarise and paraphrase texts they have read. Pupils will have good comprehension skills and have a wide understanding of prior knowledge of the topic due to a solid grasp of vocabulary. They are not frightened to challenge themselves. Our pupils are ready for the next stage of their reading journey.
We Are A Reading School
We completed a reading audit with Scholastic and then had a quality assurance meeting with them about reading in our school. A report was written which shows all the positive things going on in reading at Kingston and has identified some key areas to continue to develop. We were awarded a certificate stating that we are a reading school because we have been recognised for actively supporting the Reading Charter and we put reading for pleasure at the heart of school life.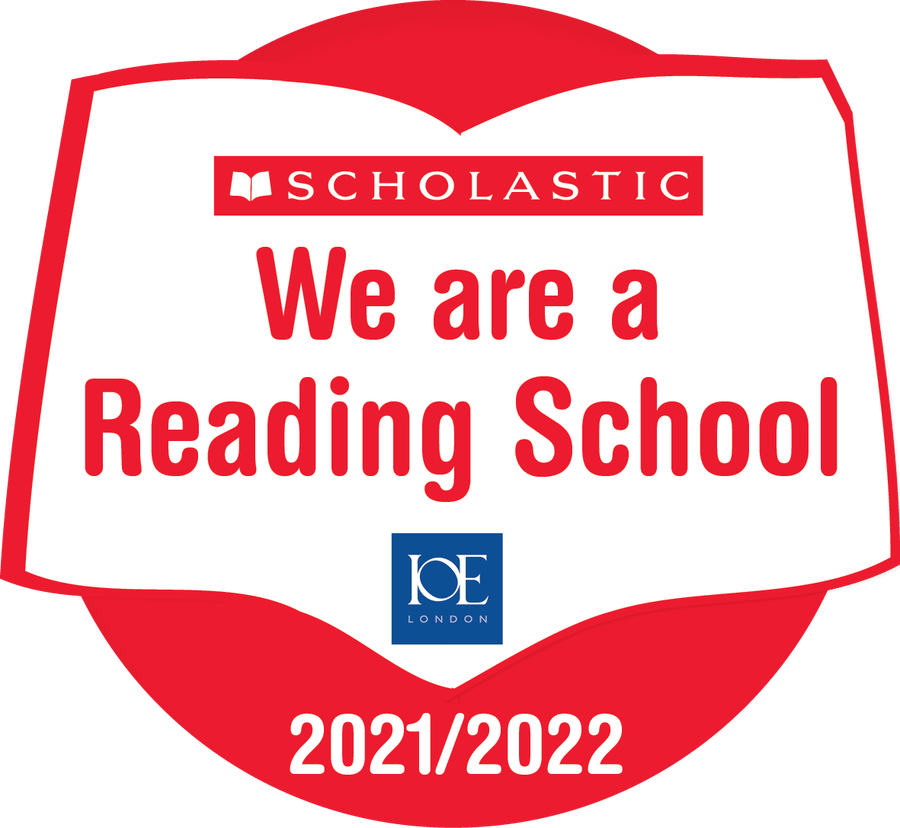 Accelerated Reader
All Junior children have their own login for Accelerated Reader and are encouraged to complete quizzes once they have read a book. the quizzes help to develop comprehension, vocabulary and enhance reading and recall skills.. The children are able to gain points and words and work towards achieving certificates. Teachers will also set challenges throughout the year. For example: who can read a million words?
Accelerated Reader Link
In order to be able to log in, the link below must be followed as it is registered to Kingston.
https://ukhosted114.renlearn.co.uk/6707848/