How we prepare our pupils to be knowledgeable, enquiring, reflective and respectful citizens of the world.
Religion and Worldviews Statement Of Intent
Religion and Worldviews is a vital subject in Kingston's 'Take on the World' Curriculum. We want our children to develop their knowledge and understanding of a range of religious and non-religious worldviews*, which not only reflect the local community Kingston serves but will also prepare pupils for the religious and belief diversity in Britain and the wider world; supporting our pupils to engage deeply with the questions raised by the study of religion and worldviews to enable pupils to hold balanced and well-informed conversations and to reflect on and develop their own personal worldviews.
The 2021 National census data, shows religion in our local Castle Point area broadly reflects the data for England and Wales as a whole, with 48.6% identifying as Christian, with a higher than national 43.5% stating no religion and a lower than national >5% of people who stated other religions. In our Kingston community, we have families who have Christian, Hindu and Muslim faiths and we take the opportunity to include, celebrate and draw on this knowledge and understanding within our school life and in our Religion and Worldviews curriculum. Importantly, our Religion and Worldviews curriculum is inclusive to all our children, regardless of whether they have a religious belief or not.
Our aims for our pupils:
To know about and understand a range of religious and non-religious worldviews by learning to see these through theological, philosophical and human/social science lenses

To express ideas and insights about nature, significance and impact of religious and non-religious worldviews through a multi-disciplinary approach

To gain and deploy skills rooted in theology, philosophy and the human/social sciences engaging critically with religious and non-religious worldviews
Our religion and worldviews curriculum makes a distinctive and significant contribution to our children's spiritual, moral, social and cultural education. We actively encourage our children to express their own personal beliefs, ideas and values whilst respecting the rights of others to have different views, values and ways of life.
Implementation
Essex SACRE Agreed 2022 Syllabus is used in Essex Schools to deliver high quality Religious Education- at Kingston we call this subject Religion and Worldviews. The Essex SACRE Agreed Syllabus is rooted in a multi-disciplinary approach to Religious Education, enabling pupils to become religiously literate and offering challenge and depth for all pupils.
At Kingston we have chosen to use the comprehensive and complete, enquiry-led Saffron Academy Trust RE (SAT RE) scheme of work to teach our Religion and Worldviews curriculum. SAT RE mirrors the Essex SACRE Agreed Syllabus and is endorsed by both Essex SACRE and Essex Local Authority. SAT RE scheme is taught from EYFS to Year 6, has been designed and developed by teachers for pupils, incorporates evidence based cognitive science approaches to teaching and learning and ensures high quality, purposeful outcomes for each enquiry. SAT RE specifically focuses on Christianity, Hinduism, Islam, Judaism, Buddhism, Sikhism and Humanism.
In line with the Essex SACRE 2022 Syllabus, SAT RE Scheme explores Religion and Worldviews through three distinct lenses: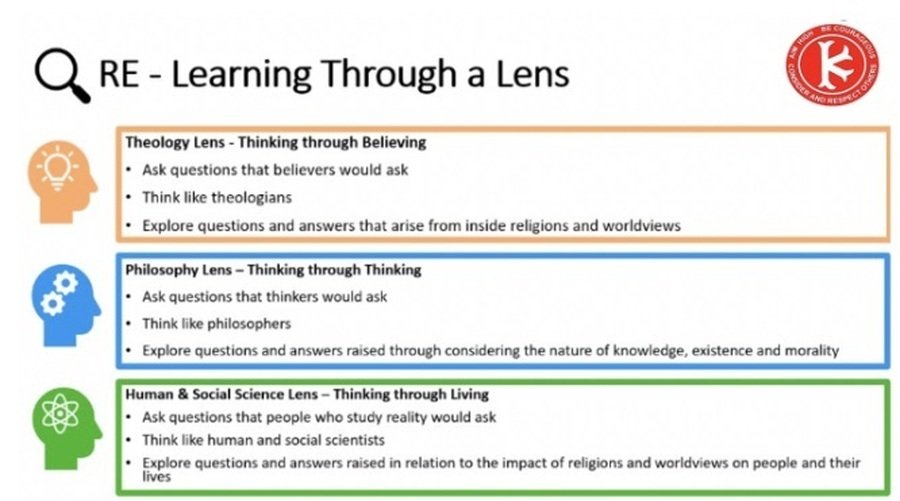 Curriculum Map
This curriculum map details the enquiry, the focus religion/s or worldviews and the lens through which each enquiry is explored, for every year group.
Progression ap
This progression map details the knowledge strands developed for each lens from EYFS to Year 6 and the content taught in Key Stage 1 and Key Stage 2 for each focus religion/worldview, relating these to the lenses.
Vocabulary progression map
This vocabulary progression map details the vocabulary which is developed from EYFS to Year 6 to enable our pupils to articulate themselves when having conversations around religion and worldviews.
Pupils apply their Religion and Worldviews vocabulary and knowledge in class debates and in our 'Take on the World' debates with a range of stakeholders.
Pupils' progress is assessed in relation to the intent and aims of the subject. Therefore, this primarily concerns how well pupils are able to hold balanced and well-informed conversations about religion and worldviews. Attainment and progress are therefore linked to the multi-disciplinary approach to RE advocated throughout this syllabus.
We have a flexible approach to the delivery of our Religion and Worldviews curriculum. In Foundation Stage, learning starts with experiences and events which relate to the children and their immediate families with opportunities to develop spiritually, morally and to strengthen their understanding of culture planned and delivered through ongoing high quality EYFS provision. From Year 1 onwards delivery of the curriculum may be taught in weekly lessons, blocks of longer lessons or Religion and Worldview days, according to teacher discretion.
By following Essex SACRE's Agreed Syllabus and multi-disciplinary approach, pupils will be effectively prepared for their studies in Key Stage 4 and beyond.
Religious Education is a compulsory subject for us to teach and we have made best efforts to choose and use a curriculum that meets the needs of all our children. However, parents have the right to withdraw their child from Religious Education- please arrange to speak to our headteacher if you wish to discuss this further.
* What is a worldview? A worldview is a person's way of understanding, experiencing and responding to the world. It can be described as a philosophy of life or an approach to life. This includes how a person understands the nature of reality and their own place in the world. A person's worldview is likely to influence and be influenced by their beliefs, values, behaviours, experiences, identities and commitments.
Institutional worldviews include religious and non-religious worldviews, such as Humanism, Secularism or Atheism. Personal worldviews are an individual's own way of understanding and living in the world, which may or may not draw one, or many, institutional worldviews. Commission on Religious Education, 2018.